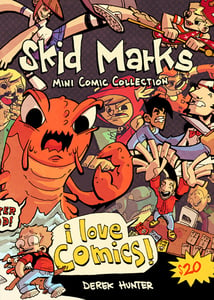 $

5.00
SKID MARKS: MINI COMIC COLLECTION is finally available to order! This giant 300 page book collects 16 out of print, rare and unpublished mini comics in one book…all for $20! Yes, 300 black and white (and some full color) pages for $20. To me, mini comics are the equivalent of a garage demo of your favorite band; a little rough around the edges. But while mini comics are often less polished than their creator's pro-comic efforts, the raw energy and often hurried nature of their production only serves to amplify the artist's emotional connection to the stories within. And I am connected to these stories. These stories show me at my best, my rawest and when I've had the most fun telling stories.
Some of the stories include: The long out of print Pirate Club handbook, Skid Marks issues 1 and 2, Pirate Club: The Legend of Bluedick's Ghost, and unpublished promotional mini comic from the unfinished OGN "Manny Golden is: Grounded in Space", All of my 24 Hour Comic Book Day Stories (even the unfinished efforts) and MORE! Also, each story is preceded by a brief "commentary track" to give you an inside look at the story behind the story.
PDF
300 pp.
Black and White with Some full color pages.